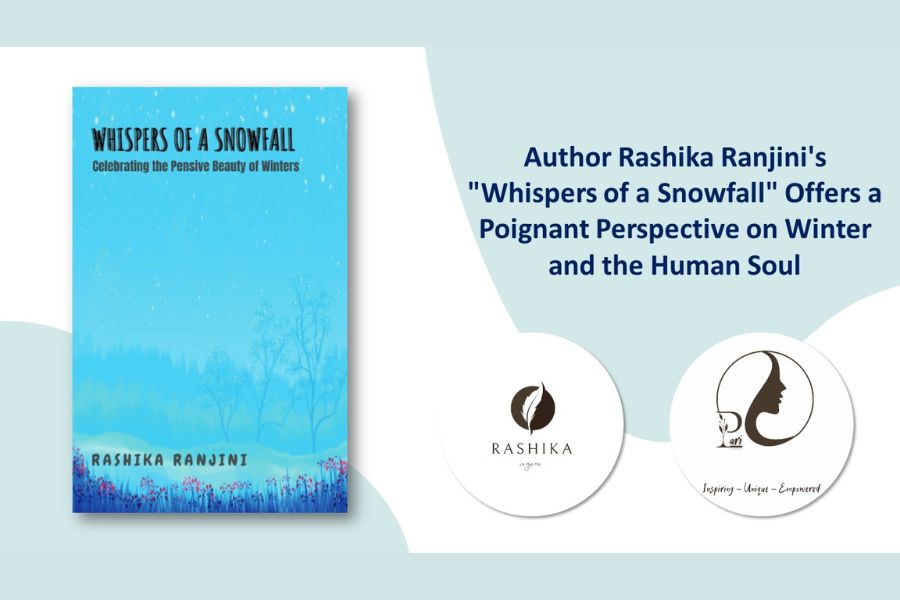 New Delhi (India), April 6: Author Rashika Ranjini has released her latest book, "Whispers of a Snowfall," a collection of poetry that explores the search for understanding winters in all their glory. Filled with imagery of snow-covered landscapes and the introspection of long, cold nights, these poems offer a sense of solitude, solace, and introspection that is perfect for the winter season.
Rashika Ranjini is a multi-faceted author, artist, and philanthropist whose mind-bogglingly diverse interests range from wildlife conservation to human rights advocacy, from mental health awareness to physical fortitude building. She firmly believes in tenacity and perseverance, and giving and sharing are very close to her heart. Rashika has founded Pari Empowered, a not-for-profit group striving for empowerment, financial independence, and education of economically struggling women, with a focus on digitally accessible career-focused education and training for underprivileged women who wish to equip themselves with skills for sustainable careers.
"Whispers of a Snowfall" offers a poignant perspective on the world and is a must-read for anyone seeking inspiration and reflection during the winter months. The poems in this collection are infused with the crisp, quiet beauty of snowfall and winter and delve into the depths of the human soul as they search for answers to some of life's deepest questions.
"I wanted to capture the essence of winter, not just as a season, but as a state of mind," said Rashika Ranjini. "The quiet beauty of snowfall often goes unnoticed, and I wanted to explore the emotions and introspection that come with experiencing winter. 'Whispers of a Snowfall' is a celebration of winter, and I hope readers will find solace, introspection, and inspiration in these poems."
"Whispers of a Snowfall" is now available for purchase on Amazon and other major booksellers. This is a beautifully written and thought-provoking collection of poetry that offers a fresh perspective on the winter season. Rashika Ranjini's lyrical writing style and insightful observations make this book a must-read for fans of poetry, winter, and introspection. Whether you are a fan of winter or simply looking for a thought-provoking read, "Whispers of a Snowfall" is the book for you. The poems in this collection will take you on a journey through the quiet, contemplative world of winter, where the snow whispers secrets, and the cold wind stirs the soul. The poetry collection is highly recommended for all those readers who look forward to reading a collection that comes as a breath of freshness, unique perspectives, and subjects that are interesting, entertaining, and seem equally dreamy. While the book is likely to introduce the readers to a whole new perspective that comes through the words of the poet, it will also enthrall them with her uniqueness and the concise manner in which she uses her words to convey deeper thoughts.
Order Book: https://amazon.in/dp/B0BS6XM59Y
If you have any objection to this press release content, kindly contact pr.error.rectification[at]gmail.com to notify us. We will respond and rectify the situation in the next 24 hours.