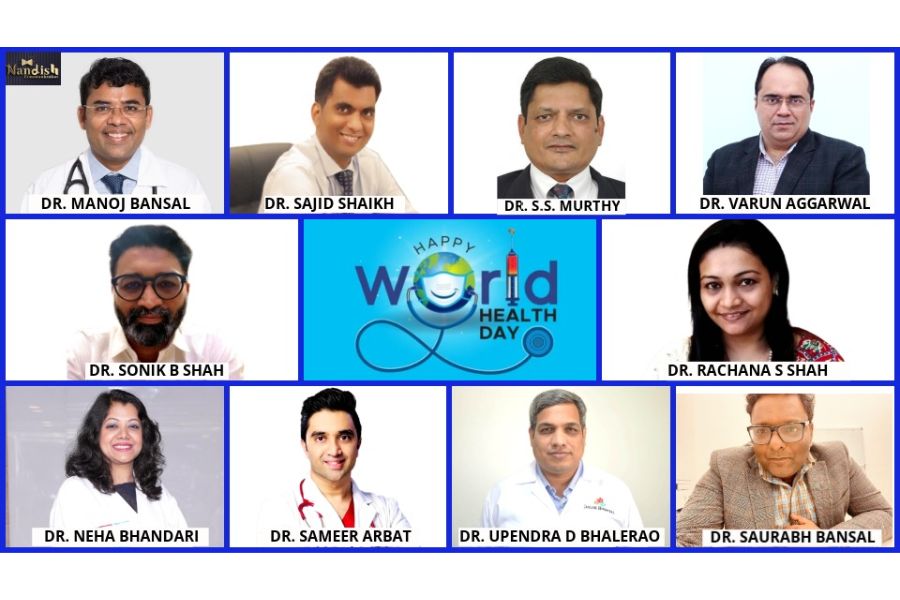 New Delhi (India), April 7: In a world where our schedules are packed with endless responsibilities and commitments, it's easy to overlook our own health. We often put our health on the back burner until a serious health issue arises. However, the importance of early detection and treatment for maintaining good health cannot be stressed enough.
Early detection and treatment can help manage serious illnesses such as cancer, arthritis, heart disease, and diabetes and increase the chances of successful treatment. This World Health Day, several doctors share their expert advice on how to prioritize your health in the modern era. Join us in taking a proactive approach towards good health, starting today.
Dr.  ManojBansal, MBBS, MD, DM Cardiology (Gold Medalist), FCSI, Lead Cardiologist, KokilabenDhirubhaiAmbani Hospital, Indore & Secretary, Cardiological Society of India, Indore Chapter
Health, as defined by the WHO, is not just the absence of disease but also encompasses complete physical, mental, and social well-being. As we mark the 75th anniversary of the WHO, the theme for this year's World Health Day is "Health for All." Promoting health and preventing diseases is a shared responsibility.
As a cardiologist, I witness only a small portion of the affected population, and a significant number of patients are unaware of their lifestyle disease status. Heart diseases are hitting our country hard, with the young and productive age group seeing a high number of heart attacks.
My message to fellow countrymen on World Health Day is to adopt a healthy lifestyle with exercise, yoga, and a nutritious diet. Regular preventive health checks and controlling blood pressure, sugar, and cholesterol levels are crucial. Individuals with a family history of heart disease should be especially cautious.
Dr.SajidShaikh, MDS, Consultant and Lecturer, Ex-Observer – Tata Memorial Hospital, Smile 4U Family Dental Clinic, Mumbai
As a dentist, I cannot stress the importance of maintaining good oral hygiene for overall health enough. On this World Health Day, I urge everyone to make oral health a priority. Neglecting oral hygiene can lead to serious health consequences such as gum disease, tooth decay, and even heart disease. Brush your teeth at least twice a day with fluoride toothpaste and floss daily to remove plaque and food particles that can cause decay.
Additionally, limit sugary and acidic foods and drinks that can erode tooth enamel. Regular dental checkups and cleanings are also crucial in preventing and addressing oral health issues. Don't delay seeking dental care if you experience any dental problems. Remember, a healthy smile is a key part of overall health and well-being. Early detection of any disease greatly increases the chances of successful treatment and survival rate.
Dr. S. S. Murthy, MBBS, DNB, MNAMS, Director & HOD – Ayushman Hospital, New Delhi
Early detection and treatment of cardiovascular disease (CVD) are crucial for a healthier life, as CVD remains the leading cause of morbidity and mortality. By being aware of the early signs of CVD and leading a heart-healthy lifestyle, most cases can be prevented. Screening tests to identify early vascular and cardiac abnormalities are effective in individuals without symptoms and clear-cut risk factors for CVD. Early identification of CVD risk factors and non-invasive testing for early disease onset is important for heart disease prevention.
Implementing early detection and treatment of CVDs offers benefits for clinicians, such as identifying ischemia more easily and reducing appointment wait times for patients with urgent medical needs. Additionally, early detection leads to decreased morbidity and mortality, fewer complications, and long-term survival for patients.
It is important for the public to prioritize heart health, make necessary lifestyle changes, and work with physicians to prevent CVD. By doing so, individuals can improve their quality of life and avoid preventable health issues.
Dr. NehaBhandari, M.B.B.S, DNB Pediatrics, GRIPMER fellow, Sir Ganga Ram hospital, IPNA fellow (NUH, Singapore), Sr. consultant, Ped Nephrology, Aakash Health Care Super Speciality Hospital, and Kompal Child & Kidney Clinic, Delhi
Early detection and early treatment can help you live a healthy life. Many kidney problems can be diagnosed before a baby is born through routine prenatal testing and treated with medication or surgery while the child is still young.
Chronic kidney disease (CKD) prevention and early treatment are possible by managing risk factors like obesity, hypertension, hydronephrosis, recurrent urine infections, protein in the urine, diabetes, and congenital kidney and bladder abnormalities. Get your blood and urine tested for an early diagnosis. For treatment most important is weight loss, a low salt diet, avoiding junk, getting active, control high BP and diabetes.
Dr. Upendra D Bhalerao, MS, MCh, DNB, FIACS, Consultant Cardiovascular Thoracic Surgeon and Transplant Surgeon, Jaslok Hospital Research Center, Mumbai
Heart disease is on the rise and is among the most expensive diseases in society. Early detection of heart disease and heart failure is crucial to test lifestyle and pharmacologic interventions that can slow disease progression and improve patient outcomes. Lifestyle factors such as smoking, unhealthy diet, diabetes, high cholesterol level, high blood pressure, and lack of exercise increase the risk of heart disease.
If you experience chest pain, heaviness, uneasiness, excessive fatigue, or shortness of breath, see a cardiologist. Tests such as ECG, exercise stress test, and echocardiography assess heart function and can detect ischemic signs. Regular health checkups for diabetes, hypertension, and increased cholesterol with ECG, echo, and stress tests are advisable for everyone over 45. Those under 45 with high-risk factors should have yearly checkups. Detecting abnormalities early and getting necessary treatment can prevent serious heart disease and cardiovascular morbidity.
Dr. Sonik Shah, M.S (Ortho, Mumbai), FIMIAS, FIAS (GERMANY), Diploma in Sports Medicine (International Olympic Committee Certified, Swiss), All India Superspeciality Hospital, Mumbai
Overuse injuries are prevalent among immature and recreational athletes and early detection and treatment are vital for a safe return to play. Prompt recognition and treatment of common overuse injuries such as stress fractures, knee and shoulder pain, and "Little League Elbow" can lead to quicker recovery and prevent long-term effects.
Current research highlights that recreational athletes are more susceptible to these injuries due to their untrained musculoskeletal system. Growing regions in the growth plates make adolescents more prone to injuries from sports such as gymnastics, running, and baseball. However, not all overuse injuries are related to growth plates and can cause long-term problems if neglected. Athletes should work with trainers and specialists to create a safe rehabilitation program to return to play once healing is complete. Contact for knee, shoulder, and hip-related injuries.
Dr. Varun Aggarwal, MBBS, Ms- Orthopaedics, Joint Replacement Surgeon, Golden Clinics, Chandigarh
On this World Health Day, it is important to highlight the significance of Keyhole spine surgery. This minimally invasive surgical technique has revolutionized the field of orthopedic surgery by offering patients a safer, less painful, and faster recovery option compared to traditional open surgery. Keyhole surgery involves making small incisions, less than one inch in length, and using specialized instruments to access the spine without damaging surrounding muscles and tissues.
This leads to a reduced risk of complications and postoperative pain and enables patients to return to their normal activities in a shorter amount of time. I would recommend considering Keyhole spine surgery as a treatment option for those who suffer from spinal conditions. It is a safe and effective procedure that can greatly improve patients' quality of life.
Dr. Rachana S Shah, DNB (Opthal), Fellowship InVitero Retinal Disease & Surgeries, All India Superspeciality Hospital, Mumbai
Urbanization, industrialization, and changing lifestyles have increased diabetes prevalence and its associated complications like neuropathy, nephropathy, and vascular diseases. Diabetic retinopathy is a significant cause of avoidable blindness in India. Early treatment interventions can reduce the burden of blindness. Good glucose control can slow down diabetic complications. Smoking, hypertension, and hyperlipidemia can worsen the condition.
Any vision changes or pain must be reported immediately. Regular follow-up care with an ophthalmologist, even when asymptomatic, is crucial. Early treatment with injections or lasers can reduce progression. Diabetic retinopathy is best diagnosed with a comprehensive dilated eye exam. Educating patients about these factors can help manage diabetic retinopathy.
Dr. Saurabh Bansal, Gastrointestinal Laparoscopic Cancer and Robotic Surgeon, The Clinics by Surgeons House, Delhi
Maintaining a healthy lifestyle is crucial, especially amid chaos. As a doctor, I always advise my patients to prioritize gut health. On World Health Day, I emphasize the importance of a healthy gut. Undue stress, bad eating habits, and low water and fibre intake are common reasons for gut disorders like gastritis, infection, and reflux. Smoking and alcohol worsen the situation.
Symptoms like a full abdomen, chronic reflux, vomiting, altered bowel habits, a lump in the abdomen, weight loss, fatigue, and jaundice could indicate gastrointestinal cancer. Healthy eating habits, maintaining a healthy weight, limiting alcohol and quitting smoking can help. Regular checkups and addressing gut symptoms that persist for more than 3–4 weeks are essential. Remember, good tummy health is essential for a healthy life!
Dr. Sameer Arbat, MBBS, MD Pulmonology, PDDM (Mumbai), FCCP (USA), Fellowship in Interventional Pulmonology (Italy), Interventional Pulmonologist – One Healthcare, Nagpur
World Health Day is observed on April 7th every year to raise global health awareness and mark the founding of the World Health Organization (WHO) in 1948. The day emphasizes the significance of healthy living and ensuring equitable access to quality healthcare services. It encourages people to be mindful of their health, improve their lifestyle and make necessary changes. WHO's goal is to ensure Health for All, where everyone has access to necessary health services without any financial burden. Unfortunately, almost 30% of the global population lacks access to basic healthcare, and around two billion people face catastrophic healthcare costs.
Universal Health Coverage (UHC) can lift people out of poverty, promote community well-being and safeguard against public health emergencies. To achieve Health for All, we need access to quality healthcare, skilled health workers, and policymakers committed to investing in UHC.
If you have any objection to this press release content, kindly contact pr.error.rectification[at]gmail.com to notify us. We will respond and rectify the situation in the next 24 hours.