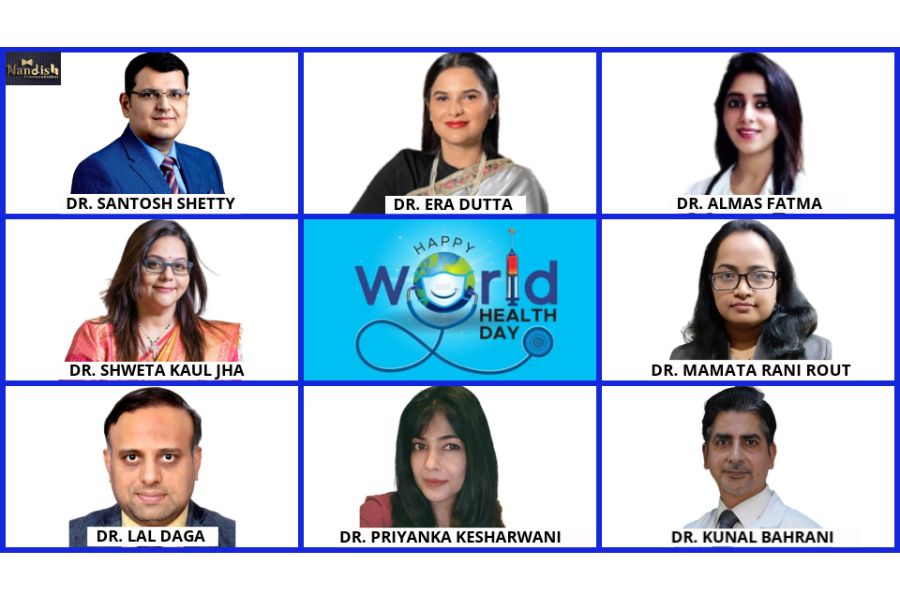 New Delhi (India), April 7: The importance of early detection and treatment cannot be overstated when it comes to maintaining good health. Early detection is particularly crucial for serious illnesses like arthritis, cancer, heart disease, and diabetes. By taking proactive measures, you can increase your chances of successful treatment and improve your overall health and well-being.On this World Health Day, we asked several doctors to share their advice on how to stay healthy in the modern era. Don't wait until it's too late, prioritize your health today.
Dr. SantoshShetty, MBBS, MS (Ortho), MCh (Ortho), Robotic Joint Replacement, Criti Care Asia Group of Hospitals, Director & HOD of Orthopaedics and Joint Replacement – Surana Group of Hospitals, Mumbai
Maintaining good health is essential for living a happy and fulfilling life, and early detection and early treatment are crucial for achieving this goal. One area where this is particularly important is in the case of joint pain and arthritis.
Early detection of joint pain and arthritis is critical to prevent the condition from progressing and causing further damage to the joints, which will eventually lead to surgery. Symptoms of joint pain and arthritis may include pain, stiffness, and swelling in the affected joint. Treatment for joint pain and arthritis may involve medication, physical therapy, or lifestyle modifications. Early treatment can help to manage symptoms, improve joint function, and reduce the risk of long-term complications.
Regular check-ups with a healthcare provider, such as an orthopaedic surgeon, can help identify joint pain and arthritis early on. It's important to discuss any concerns about joint pain or stiffness with your healthcare provider, as early detection and treatment can greatly improve outcomes.
Dr. Era Dutta, MD Psychiatry, DNB, MBBS, Consultant Psychiatrist, Founder – Mind Wellness, Kolkata
Dr. Era Dutta is a distinguished Consultant Psychiatrist who sets herself apart by being an award-winning psychiatrist, two-time TEDx speaker, podcaster, mental health influencer, and writer. As a medical doctor, Dr Dutta provides diagnoses, treatment, and therapy for various mental health disorders through online consultations. She considers herself a mental health ninja and strives to make mental health a household name using social media platforms like Instagram, YouTube, and Twitter. Dr Dutta creates authentic and relatable content on mental health, productivity, and wellness. With the theme of "Health for all" for this year's World Health Day, Dr Era strongly emphasizes the importance of not only taking care of our physical health but also our mental health. She suggests dedicating a few minutes to activities such as meditation, journaling, or self-care to promote mental hygiene. Remember to prioritize your mental health for a healthier life.
Dr. Shweta KaulJha, MS FNB Reproductive Medicine, Director – Niramay, Care Women's Centre, Indore
The WHO defines infertility as the failure to achieve pregnancy after 12 months of unprotected sexual intercourse. Globally, about 17.5% of adults suffer from infertility, with one in six experiencing it at least once in their lifetime. India's fertility rate is at an all-time low of two children per woman, and even beyond fertility, maternal mortality remains a leading cause of death after conception. India's maternal mortality ratio (MMR) has improved to 103 per 100,000 live births in 2017–19, yet the UN SDGs set the rate at less than 70 per 100,000 live births. Infertility is often viewed as a taboo in India, with many people hesitant to seek treatment or discuss their experiences. Educating people about infertility and its treatments can help them make informed decisions about family planning.
Dr. Priyanka Kesharwani, MS, DNB, Fertility Specialist, Mumbai
As a gynecologist, I believe that early detection and early treatment are key when it comes to living a healthy life. I would like to share my insights on this topic and provide advice to women who want to take better care of their health. Screening tests are designed to detect certain conditions in their early stages before any symptoms appear. These tests, like pap smears, mammograms, and blood tests, are for certain conditions like diabetes and high cholesterol. Early detection and treatment of these conditions can prevent complications such as heart disease and kidney damage.
Self-Examinations It is important to know your body and perform regular self-examinations. Lifestyle changes for preventive care like eating a balanced diet, maintaining a healthy weight, and getting routine health screenings for BP, cholesterol, blood sugar, and cancer all count.
Dr. LalDaga, MBBS, DNB (Med.), DNB (Card) MNAMS, FESC (International), FEAC, Advanced Cardiology Training Program (Seoul), Senior Consultant Interventional Cardiologist – Apollo Hospital, Director – Dr. Lal Heart Centre, Ahmedabad
The most common cause of death worldwide is a cardiac disease; that's why it is very important todetect it early; prevention is always better than cure. In South Asian countries, heart disease occurs one decade before its Western counterpart, so it's important.
Early detection must be achieved by a cardiac check-up involving cardiac consultation with patient-tailored investigations like ECG, 2D Echo, TMT, and a few CT coronary angiography or conventional angiography with laboratory tests. Patients with a family history of heart disease can be helped by genetic studies along with lipid profiles (LPA, Hs CRP, homocysteine levels). Patients with acute or intermittent symptoms can be diagnosed with cardiac evaluations by ECG and biochemical cardiac marker 2D echo on an OPD or IPD basis. Early treatment ranges from prevention and control of comorbid diseases like diabetes, hypertension, obesity, and dyslipidemia, as well as stopping smoking and reducing stress. The final treatment can be angioplasty, pacemaker, or CABG in some cases. But all persons, with or without heart disease, should be aware of prevention and early treatment of heart diseases to benefit the community at large.
Dr. Almas Fatma, MBBS, Diploma Family Medicine (RCGP,UK & AHERF), Telehealth PG course in Digital Health -IIM Raipur, Consultant – Alcura Family Clinic & CAARE.IN, Navi Mumbai
Routine health screenings are an important part of a person's healthcare journey. With proper health screening and interventions, we can save more lives and curb the rising number of various chronic ailments such as cancer, diabetes, high blood pressure, heart diseases, autoimmune disorders, genetic disorders, behavioral disorders, etc. Early detection is always the first step towards a cure.
There are many conditions for which the earlier the diagnosis, the better. That's because we have effective treatments that work best during the early stages of the illness. For example, breast and colon cancer can be cured if caught early enough. That's why screening tests include mammography and colonoscopy. Detecting symptomatic patients as early as possible so that they have the best chance for successful treatment. Special examinations exist for many chronic diseases that can diagnose the disease while it is asymptomatic. The earlier detection of disease may lead to more cures or longer survival. THE BEST PROTECTION IS EARLY DETECTION!
Dr. KunalBahrani ,MBBS, MD, DM (AIIMS), FEBN, MRCP (UK),  Director & Head Neurology, FORTIS Escorts Hospital, Faridabad
World Health Day is an excellent opportunity to raise awareness about the significance of good health and well-being. This year's theme, "Building a fairer, healthier world," emphasizes the need for equitable access to healthcare services for all, regardless of their socioeconomic status.
There are a few essential tips to maintaining good health: adequate sleep and good rest. Sleep deprivation can have a significant impact on mental and physical health. Engage in regular physical activity, such as brisk walking or cycling, for at least thirty minutes a day. This not only helps to maintain a healthy weight but also reduces the risk of chronic diseases such as heart disease, diabetes, and stroke. Follow a balanced diet that includes plenty of fruits, vegetables, whole grains, and lean protein sources.
Dr. Mamata Rani Rout, ENT Clinic, Ghaziabad (visiting consultant at Manipal Hospitals), MBBS, P.G. Diploma in Otorhinolaryngology (D.L.O.), ENT Surgeon, Ghaziabad
Oral cancer is a type of cancer that occurs in the mouth and throat. It can present with symptoms such as persistent mouth sores, difficulty swallowing, and changes in speech. Risk factors include tobacco and alcohol use, poor oral hygiene, and HPV infection. Early detection through regular screenings is crucial for successful treatment. Prevention includes avoiding tobacco and alcohol, practising good oral hygiene, and getting vaccinated against HPV. Seeking medical attention for concerning symptoms is important for early detection and treatment. Stay informed, be proactive, and take action against oral cancer for better oral health. Your mouth and body will thank you!
If you have any objection to this press release content, kindly contact pr.error.rectification[at]gmail.com to notify us. We will respond and rectify the situation in the next 24 hours.