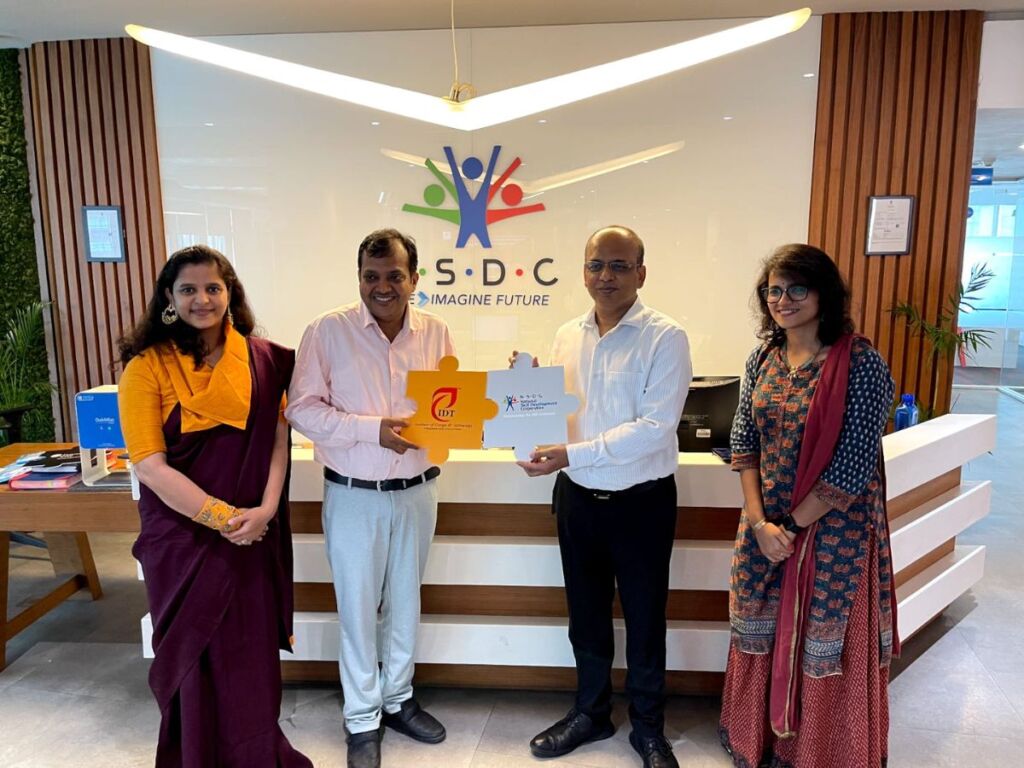 (L to R) Ms. Ankita Goyal, Director, IDT, Anupam Goyal, Mr. Sanjiva Singh, Executive Vice President, CSR and Skill Development Financing, NSDC, Ms Honey Pamnani, Manager, CSR and Skill Development Financing, NSDC
New Delhi (India), May 8: National Skill Development Corporation (NSDC) and Institute of Design and Technology (IDT) signed a Memorandum of Understanding (MoU) today at the NSDC Corporate Office in Delhi to promote skill development and entrepreneurship in the design and technology sector.
The MoU was signed by Ms. Ankita Goyal, Director, IDT, and Mr. Sanjiva Singh, Executive Vice President, CSR and Skill Development Financing, NSDC and witnessed by Ms Honey Pamnani, Manager, CSR and Skill Development Financing, NSDC.
This partnership between educational and vocational institutions and industry will aid in providing students with appropriate training, preparing them for employment.
This collaboration is an important step towards closing the skill gap in India, developing a skilled workforce, and strengthening ties between industry and academia. The IDT and NSDC will collaborate to identify skills needed across sectors and supply applicants with necessary training. Through this collaboration, students will gain access to industry-relevant training and exposure, preparing them for success in their respective industries.
Furthermore, the NSDC has partnered with several NBFCs to make the skills available to candidates who are unable to pay the skill course fee. This project intends to make skilling accessible to all individuals, regardless of financial situation, who wish to pursue a career in their chosen profession.
IDT, being the leading design institute, provides worldwide Fashion and Interior education in collaboration with Pearson to give students with comprehensive development while also meeting their unique regional demands. After completing two years of design study at IDT, applicants may finish their degree (3rd year) from recognised institutions in the United Kingdom, Canada, Australia, New Zealand, and Ireland.
This collaboration is a significant step towards a brighter future for the students. Several independent programmes dedicated to design, development, and technology will be organised in collaboration with IDT and NSDC to equip students with the necessary competencies to meet the needs of industry in the state. Under the auspices of IDT, which is associated with Silver Oak University, a three-year full-time Degree programme is also offered.
"We are excited to collaborate with NSDC to create a strong workforce in India," stated Ankita Goyal, Director of IDT. This collaboration will allow us to provide industry-relevant training to our students, giving them the competitive advantage they need to succeed in their careers."
The NSDC is dedicated to closing the skill gap in India and developing a competent workforce. "We are delighted to partner with IDT to give those candidates the best possible training and exposure to the maximum amount of experience," said Parul Mahajan, NSDC's Head of Government Relations and Industry Partnerships and International Counterparties.
The collaboration between IDT and NSDC is an important step towards developing a trained workforce in India. It will aid in strengthening the ties between business and academia, giving students with the required skills and information to enable them succeed in their jobs and contribute to the nation's growth.
If you have any objection to this press release content, kindly contact pr.error.rectification[at]gmail.com to notify us. We will respond and rectify the situation in the next 24 hours.