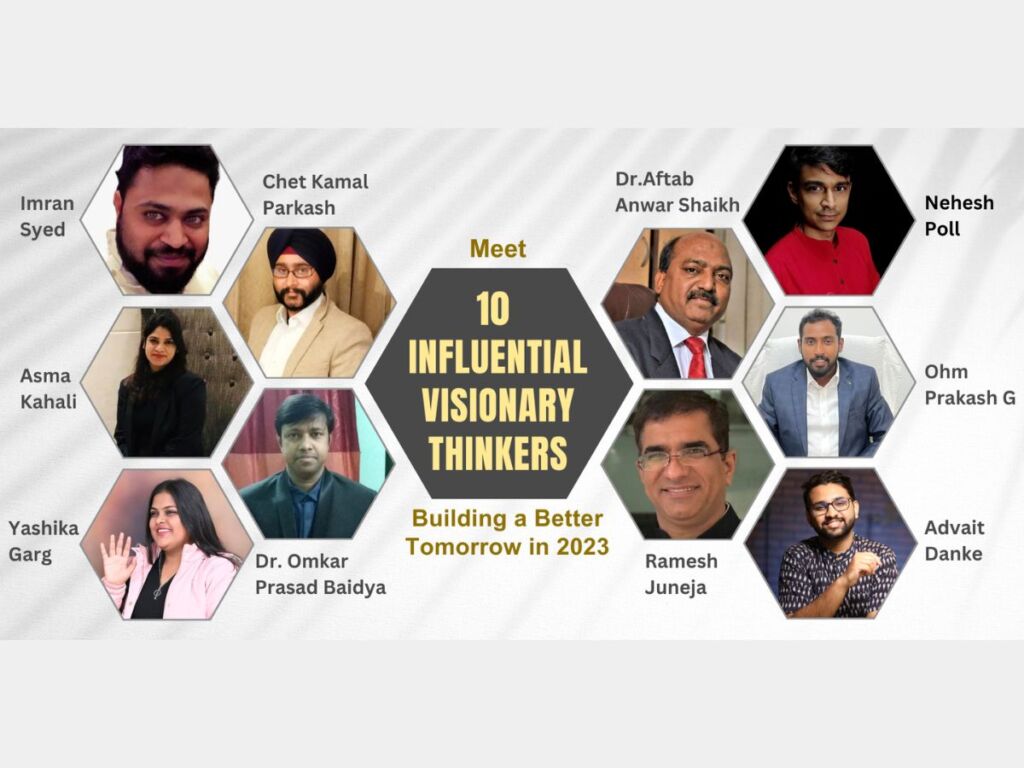 New Delhi (India), May 11: As the world progresses amid dreadful economic and social conditions, the drive to excel keeps getting higher. The number of people coming forward with revolutionary ideas is quite commendable. As a huge part of the population gets actively involved in developing their respective sectors, the vision to use resources using creative ideas and skill sets and the best modern technological solutions is achieved.
Meet 10 influential Visionary Thinkers who have made significant changes in their sectors.
Imran Syed
He is the CEO and founder of Sprintzeal, a leading provider of online training and certification for professionals looking to better their careers. Professionals can advance and upskill, thanks to these programs. The component of the business that stands out in all respects is its dedication to quality and customer happiness. In order to give his clients the finest service possible, he has consistently paid close attention to current trends and given developing creative solutions a high priority. Imran is also actively involved in several programs designed to encourage skill development and education in underprivileged groups.
Mrs. Asma Kahali
Asma Kahali is an internal consultant and a professional operation coordinator who works for Rimba Raaya World Solutions Private Limited. She added facility mobilization to the company's list of services, oversaw challenging projects, and gave her all to ensure that clients got the finest help possible. Asma has a talent for instilling creativity and a focus on finding solutions in her work.
to give customers a secure environment and make a difference by effectively and efficiently addressing their needs, Asma is known for her excellence and passion to serve exceptionally.
Yashika Garg
Yashika is an outstanding online coach and content producer that specializes in drop servicing. She has provided many clients with excellent services and knowledgeable counsel to help them reach their business goals. Yashika has been a trusted expert in the field of drop servicing for more than 4 years of work in the industry. She has distinguished herself from her contemporaries by offering original views, useful counsel, and top-notch customer service. Yashika concentrates on keeping abreast of the most recent trends and advancements in the market. Her emphasis on getting the most out of things enables her to deliver exceptional services.
4. Chet Kamal Parkash
Chet Kamal Parkash, a prolific mind in IT applications and its related services, a tech geek, the author of the book 'The Waiting Lounge' sets forth his vision of a perfectly governed society.
You can often hear him talk about these modern-era necessities like basic education, health, women empowerment, and more about curbing social menaces like injustice, inequality, dowry and others.
He can be seen addressing at various schools, colleges, events, and gatherings. He emphasizes the role of teachers as well as students in Nation building. He is a person with innovative vision to revolutionize modern-day society. Our society needs such visionary thinkers.
Dr. Omkar Prasad Baidya
An Indian physician, philosopher, author, and associate professor of Physiology by profession, Dr. Omkar Prasad Baidya is a renowned name. He has educated readers about the value of human qualities in guiding lives and addressing all of humanity's problems through his works. Through moral leadership, he hopes to bring about humanitarian change in the world. In his book "Morality Beyond the Human Brain: Scientific and Philosophical Exploration," he presented a theory of morality and devised an equation for intrinsic morality. He presented that nature has endowed all living things to triumph over the struggle for survival.
Dr. Aftab Anwar Shaikh
He is an educationist and social activist presently working as a Professor and Principal at Poona College of Arts, Science, and Commerce. He is highly focused on education and the development of students, both academically and personally. Dr. Aftab is highly dedicated to creating learning environments that are tailored to the needs and interests of the students. He envisions helping underprivileged and downtrodden children as a social responsibility and equipping youth with essential competency to survive in the employment market. Dr. Aftab aims to inculcate a skill curriculum into the education system.
Ramesh Juneja
Ramesh Juneja is a senior Sales and Marketing Professional in Health Care Industry. He has been working for over 25 years in the Pharmaceutical industry and has worked with India's biggest companies, including Cipla, Sun Pharma, and Reliance Retail (Netmeds). He is known for the turnaround of the business and for his passion to serve the best of people. He is the founder of KareerSity, a unique learning platform exclusively made for Pharmacy students. With the vision to impart practical learning, the platform has the best trainers who look after the progress of the students.
Nehesh Poll
Nehesh Poll works as an independent film director. He has devoted his life to the making of the thought-provoking and motivational documentary film #tryingtosavetheworld, which explores the potential for a Direct governance democracy model where the people decide and the service provider obeys. He is an artist who uses his work to hold up a mirror to society, expose what it has evolved into, and elicit an emotion in viewers that will alter the path of their life. In order to spark a significant socio-political evolution, the movie attempts to set a world record for the largest number of people to chant Om 108 times.
Ohm Prakash G
Ohm Prakash is the Chief Executive Officer of SRMPR Cement Processing Private Limited, Vice President of Vendhar TV, and Group Head of Marketing of SRM Group. His extensive experience in this field has made him excel in everything he does. Ohm, who has an engineering education and a thorough understanding of the building sector, has developed a profitable company based on consistent supply and affordable prices. He has developed solid relationships with top producers and distributors to guarantee that his clients always have access to the highest-quality cement at the most affordable pricing.
Advait Danke
A musician & DJ turned spiritual catalyst, sound alchemist, meditation teacher, nada yoga and mindfulness facilitator, Advait Danke is an exceptional individual who is a creative entrepreneur specializing in digital transformation, marketing, branding, and sound engineering, due to which he founded India's first sound meditation mindful metaverse. He is on a mission to evolve human consciousness and expand human experience through sound & music. He has worked with more than 60+ brands, held more than 350+ keynotes, and had an impact on more than 20000+ people. He has created a systematic method for employing sound and vibrations to evolve and transform the body, mind, and consciousness, thanks to his cutting-edge research.
These Influential Visionary Thinkers have inculcated the value of change into developing their respective sectors. With the power of innovation and creative change that inspires many to revolutionize the way things work in all aspects, these people remind us that change is necessary to impart value.
If you have any objection to this press release content, kindly contact pr.error.rectification@gmail.com to notify us. We will respond and rectify the situation in the next 24 hours.