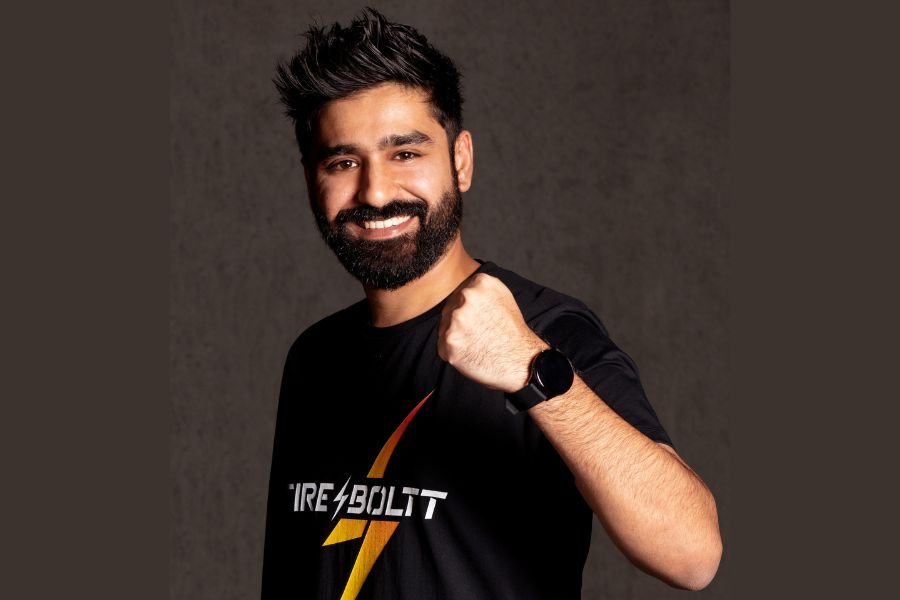 Arnav Kishore_CEO & Founder_Fireboltt 
As per the latest Counterpoint report, the homegrown brand grabbed a 9% global market share in Q1 2023, surpassing industry giants.
Fire-Boltt became the first Indian brand to break into the top 2 brands in high technology industries.
Fire-Boltt registered a 57% growth in this quarter and its shipments increased by approximately three times compared to the previous year 
New Delhi (India), June 2: Fire-Boltt, a homegrown smart wearable brand, has set the smartwatch industry on fire by grabbing the second spot in the global smartwatch market. As per Counterpoint Report Q1 2023, Fire-Boltt is now leading India's positioning in the global smartwatch market with a 9% market share, surpassing industry giants like Samsung and Huawei. This marks a significant achievement for Fire-Boltt, which entered the smartwatch category just 3 years ago in 2020. The brand was recently declared India's No.1 smartwatch player by IDC, and the Counterpoint report further solidifies its position as a dominant brand in the space.
Fire-Boltt has registered phenomenal growth since it launched its first-ever smartwatch in October 2020. The brand started with a mere 0.3% market share and leapfrogged to a staggering 11.6% within a year. In the year 2022, Fire-Boltt took the industry by storm when it became the No.1 smartwatch brand within 15 months of its first smartwatch launch. The brand captured a market share of 24.6% in Q122 and registered a whopping 2000% YOY growth, despite the industry growing at a stagnant pace.
As per the latest Counterpoint report, Fire-Boltt's shipments increased by approximately three times compared to the previous year, and the brand registered a 57% growth in this quarter. The report also highlights the impressive growth of India's smartwatch market, which registered a 121% YoY growth in Q1 2023.
Moreover, after being inspired by the call to action by India's Prime Minister, Shri Narendra Modi, Fire-Boltt has taken up the challenge of Make in India and is proud to share that over 99% of its portfolio is now made in India as per Q1 2023.
Commenting on this latest milestone, Fire-Boltt Co-Founders Arnav Kishore and Aayushi Kishore said, "We are extremely honored and proud to place an Indian brand in the league of global frontrunners. This milestone is a testament to our strong focus on innovation, quality, and affordability. Our agile product strategy, a strong focus on R&D, and our unwavering commitment to providing the most affordable yet quality products to our consumers have been some of the biggest drivers of our extraordinary growth. We will continue to work aggressively to make Fire-Boltt a global force to reckon with and achieve even bigger milestones in the near future."
With over 30 smartwatch launches in the last six months, Fire-Boltt has inflexed the market with multiple options of smartwatches offering the latest industry features at affordable price points. The aggressive push of products, smart features & affordable price points has made Fire-Boltt one of the biggest names in the smartwatch category.
Fire-Boltt started its journey in the year 2015 and was one of the first brands to revolutionize the Indian market with the best-in-class products developed with the latest technology. Led by a team of young co-founders, the brand has today set a benchmark in the industry with its explosive product portfolio, aggressive marketing, and sales efforts. Fire-Boltt's rise to the top of the smartwatch market yet again is a significant achievement, and the company is poised to maintain its leadership position with its commitment to innovation, quality, and customer satisfaction.
Please click here to read the detailed report:
https://www.counterpointresearch.com/india-smartwatch-market-yoy-growth-restricts-global-decline-q1-2023/
If you have any objection to this press release content, kindly contact pr.error.rectification[at]gmail.com to notify us. We will respond and rectify the situation in the next 24 hours.